Innovation Investing & Navigating an Economy in Turmoil
Wednesday, April 1 @ 2pm


This conference call took place on Wednesday, April 1, 2020 @ 2pm ET. If you would like to listen to the replay of the call, please sign up here to be informed when it's available.
Why do innovative, disruptive companies tend to be among the first areas of the market that investors return to after downturns? We think the answer is twofold:
These companies typically continue to deliver strong relative growth given their underlying core innovation engines and secular growth dynamics.
Leading innovators keep on innovating—launching new products and services regardless of the economy and markets.
Time and innovation are on the long-term investor's side.
Please join Evolutionary Tree's President, CIO, and Portfolio Manager, Thomas Ricketts, CFA, on Wednesday, April 1 @ 2pm ET for a live conference call to discuss the state of growth-oriented equities and the evolutionary shifts that he believes are driving sustainable growth in certain areas of the economy.
We will also be discussing timely topics such as:
Why dedicated exposure to leading innovators is more important today than in the past
Why secular growers are critical to own during periods of slower global growth
Leading innovators in cloud computing, digital advertising, biotechnology, cybersecurity and more
Featured Speaker: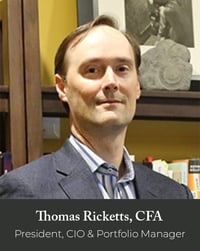 ---
This site and the content within is intended for US-based investors only.
The information and views expressed herein are provided for informational purposes only and do not constitute investment advice. Past performance does not guarantee future results. Any projections, outlooks, or estimates contained herein are forward looking statements based on specific assumptions that are current as of the date indicated, subject to change without notice, and should not be construed as indicative of any actual events that have occurred or may occur. The inclusion of particular investments is not intended to represent, and should not be interpreted to imply, a past or current specific recommendation to purchase or sell a security and should be considered in the context of an overall portfolio. Investing in equity securities involves risk and principal loss is possible. Nothing contained herein constitutes investment, legal, tax, or other advice and should not be relied upon in making an investment or other decision. Investors should always obtain and read up-to-date investment services material before deciding whether to appoint an investment advisor.